VIETNAM IN NEWS
---
The celebration of 128th birthday of Ho Chi Minh
The celebration of 128th birthday of Ho Chi Minh is held in the Nehru Memorial Museum & Library with the presence of H.E. M J Akbar, Minister of State for External Affairs on 21 May 2018.
The ambassador of Vietnam Ton Sinh Thanh also participated in the programme and recollected friendship between Ho Chi Minh and leaders of the anti-colonial struggle of India.
"In an interview in 1955, Ho Chi Minh said that he honoured the great spiritual leader of Indian people, Mahatma Gandhi as his master in his struggle against imperialism in Asia," said the envoy at the event organised by the Centre of Vietnam Studies in the Nehru Memorial Museum and Library.
He recounted that in many of his writings, Ho Chi Minh shows lot of admiration for Motilal Nehru and had personal contact with former Prime Minister Jawaharlal Nehru. "He even wrote a poem about Jawaharlal Nehru when both of them were in jail in the early 1940s," said the Vietnamese ambassador highlighting that contemporary ties between India and Vietnam reflected Ho Chi Minh's idea of long term relation between the two sides.
Mr Akbar said that an important similarity between India and Vietnam is that both were divided by colonial powers and argued that terrorism is the common enemy that demands countries in the region to join hands.
President Tran Dai Quang's India visit to foster multi-faceted cooperation
The upcoming State visit to India by Vietnam's President Tran Dai Quang, from March 2-4, is expected to help promote cooperation between the two countries, while deepening ties in national defence and security, said Vietnamese Ambassador to India Ton Sinh Thanh.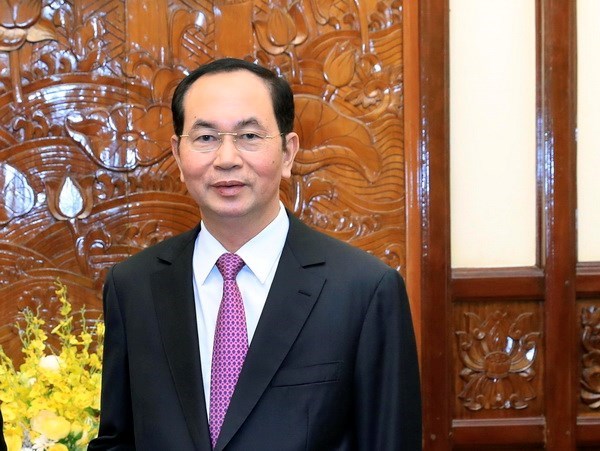 President Tran Dai Quang
The visit will also expand bilateral collaboration in economy, investment, tourism, cultural exchange and better tap potential for cooperation in education and technology, the diplomat told a Vietnamese News Agency correspondent in India.
The trip will be a new and important milestone in bilateral cooperation, he noted.
It offers an opportunity for leaders of the two countries to assess past cooperation and outline plans to step up the bilateral comprehensive strategic partnership, he said.
The two sides will take the occasion to review the 2017 Vietnam-India Friendship Year  and prepare for activities within the framework of the "Vietnamese Cultural Days in India" programme marking the 46th anniversary of diplomatic ties in 2018, according to the ambassador.
Thanh emphasised that over the years, the strategic partnership between Vietnam and India has developed strongly and political trust has been consolidated through the regular exchange of high-level visits.
Besides, the two sides have maintained cooperation mechanisms, especially political consultations and strategic dialogues between Foreign Ministries, and dialogues between Defence Ministries, contributing to enhancing cooperation and coordination between the two countries at international forums, the ambassador said. He added that Vietnam and India have also effectively partnered in national defence and security.
Also last year, Vietnam and India held many activities celebrating the 45th anniversary of bilateral diplomatic ties, which, the ambassador said, contributed to boosting the friendship, cultural cooperation and people-to-people exchange between the two countries.He explained that the Vietnam-India relationship has a firm foundation created by historical and cultural links and fostered by generations of the two countries' leaders.
Source: VNA
India, Vietnam strategic partnership key to stability in Indo-Pacific region
India-Vietnam strategic partnership is key to maintaining peace and stability not only in SE Asia but in the entire Indo-Pacific region as the two countries share plethora of complementarities.
This was the message from an international workshop – 'India-Vietnam ties amid the changing geopolitical situation in the Indo-Pacific' — held here on January 9. "Although the global and regional situation is complex and unpredictable, peace, cooperation and development are still a common trend, saying that scientific-technological development and globalisation are bringing countries and regions, including the Indo-Pacific, closer in terms of economy and security. The Indo-Pacific region holds an increasingly important role in strategies of many countries, especially major ones," noted Vietnamese Ambassador to India Ton Sinh Thanh while inaugurating the workshop.
According to the Ambassador, India plays a leading role in the Indian Ocean region, while Vietnam holds an important geopolitical position in the Pacific region. They are facing similar opportunities and challenges, he said, noting that both are located in strongly developing regions and they need to make use of this opportunity by enhancing cooperation and mutual support so as to develop more rapidly and sustainably.
IITF opens, Vietnam partner nation
With India moving to an Act East foreign policy, with focus on the Asean region, Vietnam an important and old ally is the partner country at this year's India International Trade Fair (IITF), Commerce Minister Suresh Prabhu said on Tuesday.
The 37th IITF, inaugurated here by President Ram Nath Kovind, has Vietnam as the partner country, the Kyrgyz Republic in Central Asia as the 'focus country' and Jharkhand as the partner state.
"Vietnam has been an important friend of India for a long time and we look forward to have a comprehensive partnership with our old ally, which has a tremendous record of fighting against global powers," he said.
Revealing that his Ministry is working on "country specific" plans to boost India's trade, the Commerce Minister said that Central Asian nations were also a major focus point and that he was leaving on Friday for an official visit to Russia.
"The CIS (Commonwealth of Independent States) is one of our best partners. With our age-old relationship with this region, we would like to go along with them to increase economic cooperation," he said.
"Overall, we would like to increase exports, but not discourage imports. India would like to develop regional partnerships and relationships, " he said, adding that the ongoing mid-term review of the National Trade Policy would be presented soon.
Inaugurating the IITF, President Kovind described it as the "annual event in our business as well as cultural calendar".
He noted that over 3,000 exhibitors are taking part this year, including 220 companies from overseas.
Partner state Jharkhand, which holds 40 per cent of the nation's mineral resources, had become an exemplar in ease of doing business, Kovind added. – Source Business Standard